Nofollow tags are important in Search Engine Optimization (SEO), and good digital marketers plan this when they design the webpage.
However, it will require insight into the digital conversations and understanding the way links in social media work.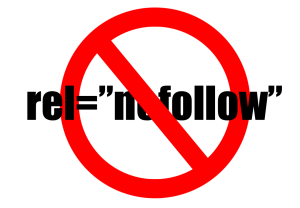 What are Nofollow tags?
A nofollow tag is a basic but most ignored piece of HTML / web page. Appended to a hyperlink, it allows webmasters to control whether search engines follow a link or not.
For example, the following URL on a page of another website allows search engines to visit Sachin Parekh' website and credit the website with the link; each link is scored by the search engines, truly supporting SEO:
<a href="http://www.sachinparekh.com/" title="Sachin Parekh">Visit Sachin Parekh</a>
Here's the same hyperlink, now including a nofollow tag (highlighted in red):
<a href="http://www.sachinparekh.com/" title="Sachin Parekh" rel="nofollow">Visit Sachin Parekh</a>
The inclusion of a nofollow tag instructs the search engines NOT to visit the site or rather not to ascribe credit to boost the ranking of the destination site based on the link.
Google says –
"In general, we don't follow them. This means that Google does not transfer PageRank or anchor text across these links. Essentially, using nofollow causes us to drop the target links from our overall graph of the web. However, the target pages may still appear in our index if other sites link to them without using nofollow, or if the URLs are submitted to Google in a Sitemap. Also, it's important to note that other search engines may handle nofollow in slightly different ways."
Seven ways to use nofollow tags:
Use NoFollow when linking to internal pages that don't need PageRank.
Use NoFollow when linking out to ScanAlert'sHackerSafe, Verisign or similar badges which you have to pay for to place on your site.
Use NoFollow when linking out to you Feedburner RSS feed.
Use NoFollow when linking out to questionable sites or content.
Use NoFollow when linking to the same page many times from one page.
Use NoFollow when linking out to competitors without supporting their SEO.
Use NoFollow in forcing indexing and crawl prioritisation of your own website especially generic power pages, such as Sitemap, About Us and Registration.
SEO considerations for marketing campaigns:
The comments to blogs, forums or social media, will generally be nofollowed, so there is no SEO benefit. This is true for most links on Facebook, Twitter and LinkedIn.
Links in blog post articles are "dofollowed" hence they support SEO and make guest posting a popular SEO activity.
Links are not always about the 'credit'. Wikipedia includes nofollow tags in all its eternal links but still receives a lot of traffic. Relevant links are still effective in traffic generation despite the inclusion of nofollowtags.
Despite the fact that popular social networks include nofollow tags in most of their external links, social networks still have an important role to play in SEO; as well their contribution to other key aspects of digital marketing strategy, such as consumer engagement.
Links from social networks help to establish your brand is active and well shared.
Links from social networks help to build your 'Social score' – a key to SEO success.